March 14, 2023 | Robert Davis, Bisnow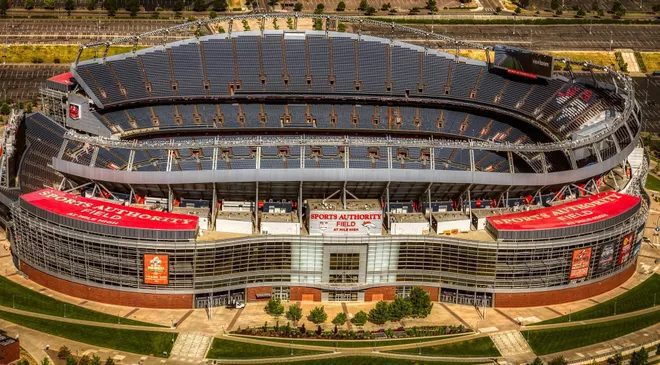 As a $100M renovation begins at Empower Stadium at Mile High, home of the Denver Broncos, redevelopment in the surrounding neighborhood is also heating up. Dozens of projects proposed could reshape Sun Valley and price out its heavily low-income, ethnically diverse community.
Broncos Stadium has been a mainstay on Denver's west side since it opened in August 2001. However, it is in one of the city's poorest neighborhoods and there are few attractions to draw people to the area outside of the stadium itself. Former Broncos owner Pat Bowlen was part of a cohort that planned to spend more than $350M to turn the area surrounding Broncos Stadium into an entertainment district, according to a federal grant application from 2016. Those plans were put on hold following Bowlen's death in 2019 and the coronavirus pandemic in 2020. 
But a map of proposed and recorded developments from Denver Community Planning and Development shows there are dozens of projects underway in the immediate vicinity of Broncos Stadium, many of which were submitted by private developers. Altogether there is nearly 1.3M SF of commercial space either proposed or under construction within a 1-square-mile radius of Broncos Stadium with a majority of that square footage coming from multifamily developments, according to city data.
"It's all about density," Denver architect Pete Pappas, who owns an eponymous architecture firm and is working on multiple projects around Broncos Stadium, told Bisnow. "It may take five or 10 years to fully realize its potential, but it's one of the last remaining places for the city to develop."
Local officials have been working on a plan to redevelop the area around Broncos Stadium for several years. Denver's Stadium District Master Plan, which was adopted in July 2019, identifies several opportunities for development like "the abundance of undeveloped land" near the West Colfax Viaduct and the cloverleaf interchange between Federal Boulevard and West Colfax Avenue that could be used to create "a new vibrant, mixed-use neighborhood."
One of the largest developers in the area is the Denver Housing Authority, a quasi-municipal corporation that provides public housing in Denver. The agency owns about 333 public housing units across 50 buildings in Sun Valley, the neighborhood that borders Broncos Stadium to the south, according to the agency's website. These units serve a community of about 1,400 households, of which nearly half are Latino. For comparison, census data shows that Latinos make up about 29% of Denver's overall population. Sun Valley is also one of Denver's poorest neighborhoods, where households earn an average income of just over $14K per year, according to data from the Pition Foundation. Seventy-five percent of families in the neighborhood are below the poverty line.
Erin Clark, DHA's chief real estate investment officer, told Bisnow that she expects there to be more than 2,000 units built in the neighborhood over the next 10 years, with DHA owning almost half of that as permanently affordable housing options for people earning up to 80% of Denver's area median income, or no more than $62,500 per year.
Clark said one aim of the redevelopment is to attract new households to Sun Valley while preserving the area's history and culture. For example, Clark pointed to DHA's support for the Decatur Fresh Market, a grocery store that serves "culturally relevant" food for Sun Valley's diverse residents, according to the market's website. DHA also has plans to revamp Riverfront Park to add a cultural center, Clark said, and is adding new bicycle and multimodal pathways to help connect Sun Valley to Denver proper.
"We want Sun Valley to really expand so that it becomes a complete neighborhood," Clark told Bisnow. "And we want to make sure that any future developments around the stadium complement our efforts in Sun Valley."
The potential influx of new households in the neighborhood is one reason developers are attracted to neighborhoods surrounding Broncos Stadium.
Pappas, who has worked in Denver since 1978, is designing a five-story apartment complex known as Conejos Place on the northwest corner of the West Colfax cloverleaf intersection. The complex will have about 32 market-rate units that range between 500 and 700 SF. The firm is also completing a three-story townhome development on the same street.
Pappas said the Broncos Stadium area is one of the last affordable places for young professionals in Denver to live. The city's median sales price for a single-family home ticked up to $534K in January, according to Redfin, which puts many housing options out of reach for people earning the city's median per capita income of around $50K. However, existing homes in Sun Valley are selling for as little as $312K while new builds fetch nearly $700K.
Renting is not a much better option than buying a home in Denver for low-income families. The city's median rent for a two-bedroom apartment is almost $1,700, according to Apartment List. Zillow shows there are more than 100 newly built apartments around Broncos Stadium that start renting at around $1,500 for a studio.
Pappas didn't specify how much the apartments at Conejos Place will rent for once completed, but apartment complexes on the same block as the development have units available for between $1,500 and $2,100 per month, according to Zillow.
"Part of the redevelopment efforts involve activating the Colfax corridor that is right by the stadium with new shops and restaurants and things like that," Pappas said. "That will help bring more people to the area, and it's the way Denver has to grow. There really aren't a lot of great options for young professionals who want to start families to buy homes in Denver right now."
Other developers like Atlanta-based Wood Partners are building high-end apartments near the stadium in hopes of capitalizing on Sun Valley's potential income growth spurred by the neighborhood's redevelopment.
Wood Partners is building a complex known as Alta Mile High just across the street from Broncos Stadium. The seven-story building will hold approximately 216 residential units that rent for between $1,500 for a studio to more than $3,200 for a three-bedroom apartment. All told, the building could cost more than $90M to build, the Denver Business Journal reported.
"There's going to be some homages to the Broncos, but we want it to feel like a higher-end, nice place to live for people, not just a sports bar," Wood Partners Vice President Max Mueller told the publication in November.
Sun Valley residents have expressed mixed feelings about the redevelopment. Glenn Harper, who owns the Sun Valley Kitchen + Community Center, told Denverite in February 2022 there has been "a lot of displacement happening in the community with residents moving out because of redevelopment."
"My prediction is that between redevelopment in this part of Sun Valley and then the stadium district, we may potentially have 10,000 people living here in 10 years," Harper told Denverite.
All of this new development should not come at the expense of residents who already live in Sun Valley and nearby neighborhoods, Clark said. That's one reason DHA has worked with local nonprofit organizations like the Sun Valley Community Coalition to make sure the new developments meet the needs of current residents. Clark estimated that about 90% of DHA residents in Sun Valley will be able to return once construction is completed.
"We're hoping this work will become a model for other redevelopment projects across the city in terms of thinking about people and not just putting roofs over their heads," Clark said.
To view original article, please click here.