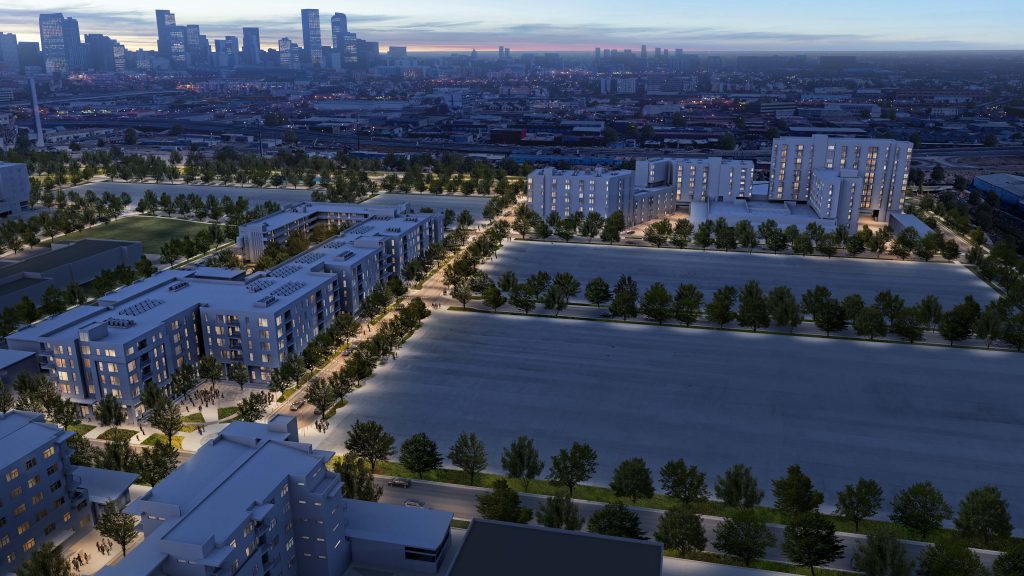 Sun Valley is a geographically central neighborhood in the metro Denver region and home to some of the city's most vulnerable residents,  the majority of whom live in the Sun Valley Homes. Today, 94% of the neighborhood's housing market is subsidized, with only 5% the homes  occupied by their owners. Additionally, over 80% of the population is living below the poverty line. Sun Valley residents represent over 33  different cultural backgrounds and speak more than 28 languages. 25% of Sun Valley's residents identify as first-generation immigrants, 4% as  second-generation immigrants, and 20% as refugees. DHA is poised to create a new model of community transformation with equity,  environmental justice, and public health as its driving forces. DHA is underway in replacing 333 units of public housing in the development of 940 new homes in the neighborhood, serving upwards of 2,500 residents. An additional 10 acres of land are set to be developed,  bringing an additional 500 – 800 new residences. To support the increase in housing, DHA is re-integrating the grid through large scale  infrastructure improvements, and building an 11 acre Riverfront Park along the South Platte.
The Sun Valley Riverfront Park is a planned 11-acre regional park running the length of the South Platte River. Originally contemplated in the Decatur – Federal General Development Plan and part of the Sun Valley Infrastructure Master Plan, the Riverfront Park brings together multiple programmatic elements to further support the Sun Valley Healthy Living Initiative (HLI) and Transformation Plan. Developed in response to the priority health issues in the neighborhood, the HLI introduces four campaigns to improve overall health outcomes in the community, including Safe and Inclusive, Healthy an Active, Pause and Connect, and Opportunity for All. Through the thoughtful, community driven approach to the design, the Riverfront Park works to meet each of these campaigns, creating a safe space the celebrates the diversity of the neighborhood, promotes physical activity and healthy eating, provides spaces for mental restoration, and ensures all Sun Valley residents have access to quality open space.
Gateway (North and South) – This development will be two, six-story mixed-use buildings and one residential building, adding 200 apartments and 265,000 square feet of residential, commercial, and office space to the Sun Valley neighborhood near downtown Denver. Just to the south of Mile High Stadium, Sun Valley is one of Denver's lowest income neighborhoods, and was selected as an Eco District, a nonprofit organization partnering with DHA to redevelop DHA's 333-unit aging public housing site.
Phase 1
Phase 2
Design Guidelines
Community – Healthy Living Initiative:
Campaign for Action
Phase 1
Phase1
Gateway North: The Gateway North public housing development building will include 95 units of family housing, 43 of which will be covered by Section 8 vouchers for low-income residents. All units will be limited to those earning below 30% and up to 60% of median income.
Project Specs
6 stories
95 units of housing 43 one to five bdrm PBV units between 30% and 60% AMI
52 one to three bdrm LIHTC units at 60% AMI
2,597 sq ft of ground floor commercial space
Gateway Home Ownership:
Project Specs
6 townhome units (3bedroom/2bath)
3 Affordable at 80% AMI
Gateway South: Sun Valley's Gateway South. The housing structure will have 92 units, including 47 one-bedrooms and 45 two-bedrooms. Fifty-eight of those units will have affordability restrictions, ranging from below 30% and up to 60% of the area's median income. The other 34 will be market-rate units.
Project Specs
6 stories
92 units of housing 27 one to three bdrm ACC units between 30% and 60% AMI
31 one to three bdrm LIHTC units between 40% and 60% AMI
34 one to two bdrm market rate units
2,727 sq ft of ground floor commercial space
Phase 2
Design Guidelines
Community – Healthy Living Initiative:
Campaign for Action